INVISIBLE, SEAMLESS, ELEGANT, AND MAGNETIC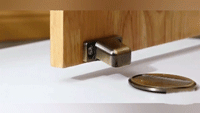 Keeping your door open can be a chore, especially when you really need it to stay that way. Maybe you are unpacking the car, alone, after a family trip, or just bringing in groceries.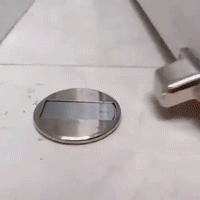 The door swings closed and now you have to juggle stuff to get a hand free to open it. Not so with magnetic door stops. Just swing it open, and the magnet holds it gently open until you are ready to close it.



HIGH-QUALITY MATERIALS:
Premium stainless steel has strong corrosion resistance and is not easy to rust in a humid environment. The electroplating process creates a smooth surface with good wear resistance.



EASY TO INSTALL:
Two option installation. Equipped two double side adhesive tapes to promote simple installation, hard to slip off. And another installation of punching improves stability.
LIGHTWEIGHT:
Lightweight and compact shape do not affect daily cleaning or hurt children easily.


SLEEK DESIGN:
Concealed screw holes keep beautiful and generous appearance, enhancing the beauty of your home.


WIDE APPLICATION:
No-Slip Invisible Magnetic Doorstop can be widely applied at the home, office, bathroom, or any kind of doors.

FEATURES:
Made of high-quality zinc alloy, brushed stainless steel finish, does not rust.

Excellent construction, powerful suction, solid, and durable.

Used for the door gap wide between the door and the floor is 5-26mm.

Conveniently holds your door open and avoid the door being suddenly closed.

Two types of installation:3m self-adhesive and screws.

PRODUCTS DETAILS:
Main Material: Zinc Alloy
Color: Silver, Black, Bronze
Suitable Door Seam: Approx.5.5-30mm/0.2-0.5in
Scope of Application: A variety of floors, tiles, etc.

PACKAGE INCLUDES:
1 X No-Slip Invisible Magnetic Doorstop