Keep beverage warm & Melt candle
Have you ever experienced an interruption so many times during your daily life your coffee always gets cold? I'm sure you've experienced it personally and been deeply troubled by it. Because there's nothing more disappointing than a cup of coffee that's gone cold. But who has the time to keep reheating it again and again? Now, you don't have to, with this coffee warmer electric you can enjoy it at your preferred temperature all day long at work or home.
USP:
Tea stays at constant temperature throughout the day.
Easy to carry on vacation and work.
Comes with an automatic shut off function.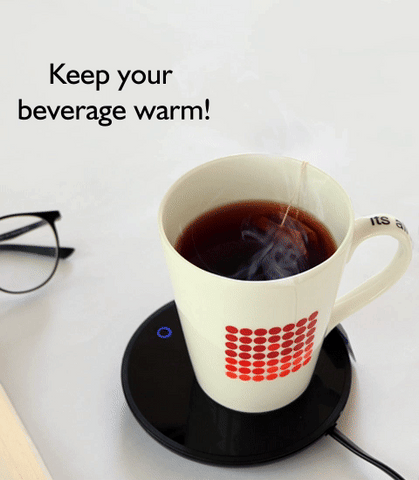 Intelligent Design
You can long-press to the close the mug warmer. If the button has not been pressed for 4 hours, it will automatically turn off. No need to worry about forgetting to shut down.
Mute Design
Plugin and use, energy-saving and silent design. Energy-saving silent design, do not disturb you when working or studying.
Easy to take it outside
Very convenient to carry it outside
Auto Shut Off
The auto-shut-off function prevents any possible safety hazard caused by forgetting to shut down
Waterproof Design
Metal waterproof panel without need for security concern for occasional spill
Never sip cold coffee again! No disappointing!
About this product:
Touch Technology
Automatic shutdown after 8 hours
Safe for ceramic glass, metal cups and tetra packs
Durable, Lightweight and Portable.
Care and Cleaning - Wipe Clean
Keeps the temperature of the beverage between 104°F to 122°F
How to use:
Plug the cord, tap the switch
Put the flat and thin bottom cups on the warmer
Choose working mode
Switch off after use