Try Bang Hairstyle Without Salon Visit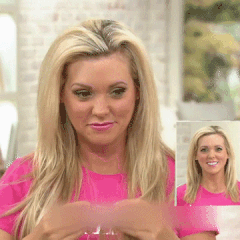 Do you sometimes wish to have the power to test-drive the hard-to-grow out bangs without ever picking up the shears? Well, you certainly can with the Clip-In Bangs Hair Extension!
This is definitely a good way to switch things up, providing you with a quick hair transformation without the long-term commitment of a permanent chop. It adds spice to any hairstyle and works on almost any face shape.
Highlights:
ADD MORE STYLE TO YOUR LOOK:

 The perfect way to add bangs to your hairstyle without permanently cutting your hair

INSTANT HAIR TRANSFORMATION:

 This is a great solution to test drive bangs or just to change up your daily style

LOOK & FEEL GORGEOUS:

 The hair temples on both sides can correct different facial contours and make you look more attractive

CONVENIENT:

 Easy to operate, lightweight, and non-damaging to hair or scalp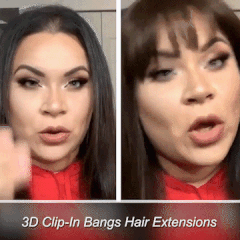 NATURAL-LOOKING:

 The heat-resistant material looks and feels like real hair and can be styled with ease

VERSATILE:

 Suitable for any face shape and hair texture

CLIP-ON DESIGN:

 This one-piece hair extension is very easy to wear, you can hide the edge of the bangs in your hair after wearing it for a more realistic effect

SECURE HOLD:

 The clips have a strong grip and can easily be snapped down after you properly position it
How to Use:
Use a comb to part your hair down the center

Place the bangs near the crown of your head, about one inch back from your hairline is a good spot to place the bangs

Clip-in the bangs

Cover the clips with your hair

Cut the bangs if the bangs are a little bit longer than desired

Run through your fingers or a comb will make the bangs more natural
Specification:
Material: Heat-resistant synthetic fiber
Bangs Type: Blunt
Attachment: Clip-in
Size: 15.5 x 9.5 x 22 (cm)
Package Include: